Ambulance Service Gulshan Niketon, Dhaka
Ambulance service Gulshan Niketon, Dhaka. We offer a spectrum of services, including AC Ambulance, non-AC ambulance, Freezing Ambulance, and ICU Ambulance. We specialize in customizing our offerings to match your specific requirements and ensure your complete satisfaction

Ambulance service in Niketon
Ambulance service Gulshan Niketon
24-hour emergency Gulshan Niketon Ambulance is available in the nearby area of Dhaka City. Count on us for emergency ambulance services that don't clock out. Our commitment extends 24 hours a day, 7 days a week, and 365 days a year. We're dedicated to your well-being every moment, ensuring prompt and reliable assistance whenever an emergency arises. 24ambulance.com company provides emergency ambulances for cheap rent of ambulance services. We provide always a Standard ambulance with the proper requirements. Contact us now to access emergency ambulance services throughout Bangladesh. We're just a call away, ready to respond swiftly to ensure you get the urgent medical assistance you require. Fast ambulance service provider company in Dhaka City. Best Quality Service Granted by Professional Skilled Driver and Assistants.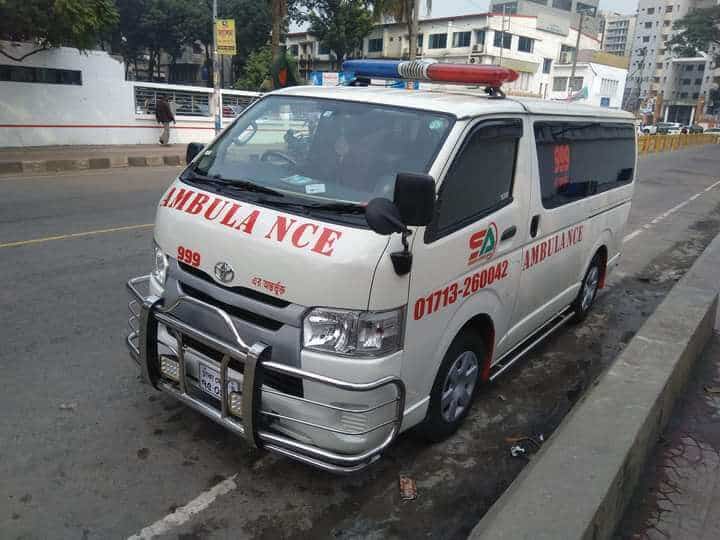 Always Here When You Need Us
In a world where uncertainties often knock on our doors, having a reliable ally becomes paramount. This is where the mantra "Always Here When You Need Us" resonates, embodying a commitment to unwavering support and steadfast assistance. In this comprehensive exploration, we delve into the essence of this assurance, uncovering the layers that make it more than a mere phrase but a promise etched in reliability.
freezing Ambulance Gulshan Niketon
A freezer ambulance is a dead body carrier ambulance. It has a freezing box in it. Keeping Loved Ones Intact for Hours and Days. Our Freezing Ambulance is designed to maintain the integrity of the deceased for several hours and days. Providing a dignified solution during difficult times, we prioritize the preservation of your loved one, offering extended hours of peace and respect. People who want to keep their relative's dead body intact or free from germs or viruses for several hours or several days. They can rent a freezing ambulance from us.
There are times when a deceased loved one arrives from abroad, or circumstances require a prolonged wait before burial. In such cases, our specialized ambulance service comes into play. Trust us to provide the essential support needed during these unique situations. We understand the importance of time and respect in such delicate moments, ensuring a service that meets your specific needs. Count on us for a service that respects the sanctity of every moment. 
Find Ambulance service
24 Hours Niketon Ambulance is available in the nearby area of Dhaka City. We provide quality ambulances to carry or move the patient from one place to another. If you need to shift a patient from Home to Home, Hospital to Home, or Home to any Hospital then contact us. We are 24 Hours ready to provide service for you. When you feel need an Ambulance service then contact us, We are always ready to provide Ambulance service with a response. If you need emergency ambulance service in Gulshan Niketon then contact us.
Ambulance Types
Ac Ambulance service
Non-Ac Ambulance service
Freezing Ambulance service
Life support ICU Ambulance service
Ambulance service
We offer 24-hour ambulance services, reaching every district in Bangladesh. No matter where you are, rest assured that our ambulances are poised and ready to serve you promptly. Hi-Quality Ambulance is available at Cheap cost. Enjoy 10% Discount!
Conclusion
In the tapestry of life, where uncertainties are woven into the fabric, the assurance of "Always Here When You Need Us" becomes a comforting thread. It's not just a promise; it's a commitment etched in the values of reliability, compassion, and innovation. In the journey through life's unpredictable twists and turns, having a support system that remains steadfast in its commitment isn't just a luxury—it's a necessity. Count on a support system that keeps its promises. Because in life's uncertainties, having reliable assistance is not just valuable; it's essential. So, let this be a reminder—an affirmation—that in the face of challenges, there's solace in the words, "Always Here When You Need Us."