Ambulance Services in Khanpur, Narayanganj
When it comes to ambulance services in Khanpur, Narayanganj, we redefine expectations. Our commitment is to provide not just transportation but a caring experience. Explore our range of specialized ambulances designed for your comfort, safety, and peace of mind.
Khanpur Ambulance service 24/7
Emergency Ambulance Services in Khanpur
Emergency Ambulance Services in Khanpur. In the bustling city of Dhaka, our emergency ambulance services stand ready to respond promptly to your call. We are dedicated to providing swift and reliable emergency ambulance services not only in Dhaka but across every district in Bangladesh. As the largest and most trusted ambulance company in the country, we prioritize your safety and well-being. 
24 Ambulance Company takes pride in being the largest and most trusted ambulance service provider in Bangladesh. Our commitment is unwavering, and our services extend beyond mere transportation. We offer various types of ambulance services to cater to diverse needs.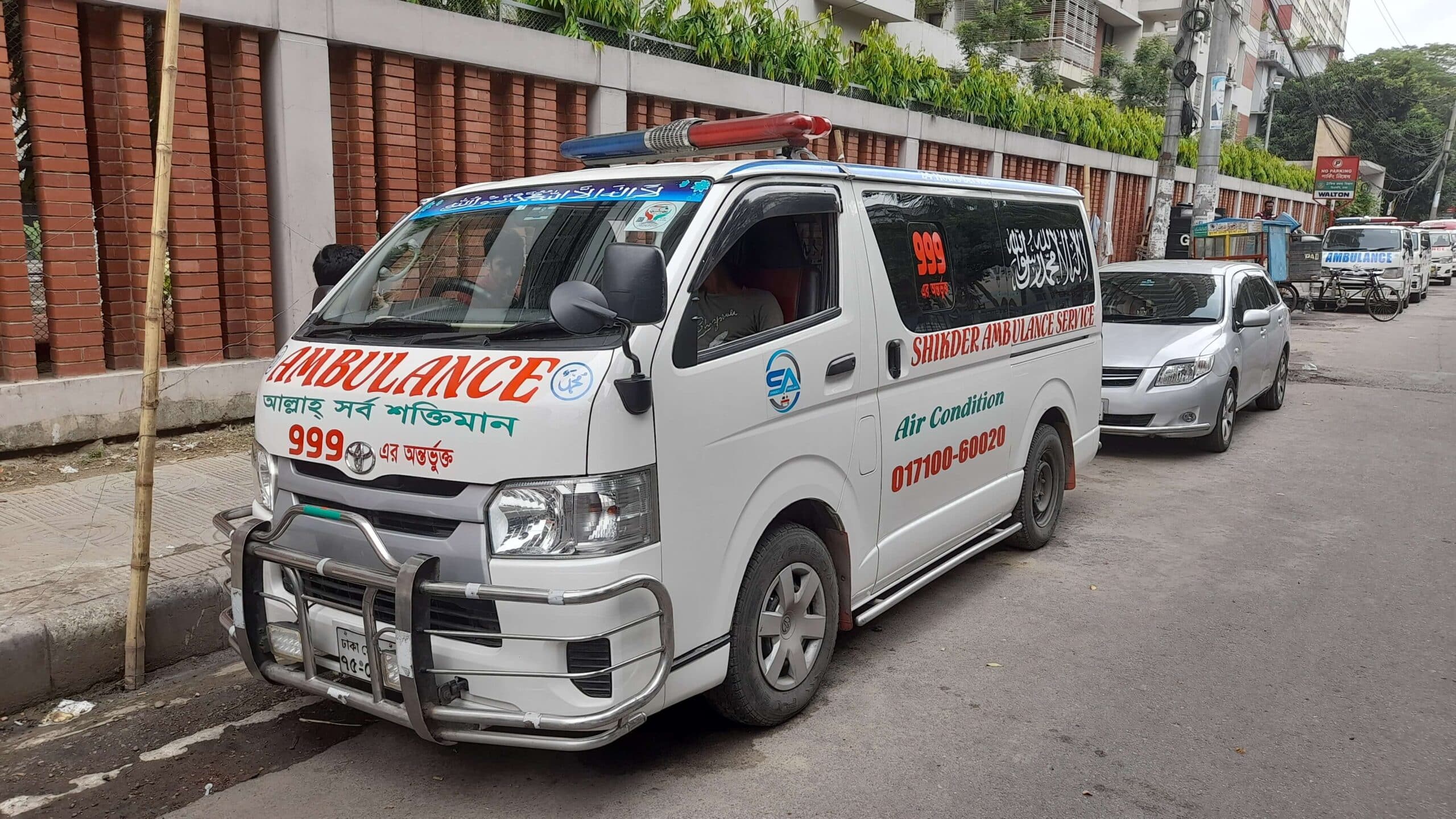 Freezing Ambulance in Khanpur
A freezing ambulance serves as a mortuary transport vehicle, equipped with a refrigerated compartment. This specialized ambulance is designed to preserve a deceased body, ensuring its integrity for extended periods, spanning hours to days. People who want to keep their relatives' corpses intact or free from germs or viruses for several hours or several days can hire our fridge ambulance. Sometimes you need this ambulance service if the bodies come from abroad or you have to stay for more than 12 hours before burying them.
We offer emergency freezing ambulance services across all districts of Bangladesh. 24 Ambulance Company, Your Largest and Most Reliable Choice in Bangladesh. Choose confidence, choose excellence. 24 Ambulance Company stands as the largest and most trusted ambulance service provider in Bangladesh. We provide different types of ambulance services. In times of need, simply dial our helpline for immediate ambulance assistance. Ambulances in the Narayanganj Khanpur area are at your service 24/7.
Discover Our Fleet in Khanpur
AC Ambulance: Ride in comfort with our air-conditioned ambulances, ensuring a cool and soothing environment throughout the journey.
Non-AC Ambulance: Experience the natural breeze with our non-air-conditioned ambulances, offering a well-ventilated and calming atmosphere.
Freezing Ambulance: In critical situations, our freezing ambulances are equipped to respond swiftly, ensuring efficient and urgent transportation.
ICU Ambulance: Your safety is paramount. Our Intensive Care Unit (ICU) ambulances come fully equipped, providing advanced medical facilities for the highest level of care during transit.
Details of Ambulance service
Always Open: We're here for you round the clock, every day of the week. We're here for you every day, around the clock.
Ambulance Quality: We provide four distinct types of ambulance services, each accompanied by expert teams.
Patient care: Our ambulance service is well-equipped with all the necessary equipment.
Professional Service: Our teams are well-trained and they always maintain their professionalism. No Matter what happens around them, patients are their highest priority.
Oxygen-free for Patients in Dhaka city
Steechar Available
We have an Expert driver and helper
All district's Ambulance services are Available