Freezing Ambulance Service Keraniganj
Keraniganj freezing Ambulance service of Bangladesh. It is a dead body carrier ambulance. It has a frozen box. Preserve the deceased body for several hours and days without any compromise. Using a refrigerated ambulance is the optimal method for preserving or transporting a deceased body. freezing ambulance is available in all districts of Bangladesh.
Freezing Ambulance Service Keraniganj
Keraniganj Ambulance Service
Freezing ambulance Service in Keraniganj, Hasnabad, Ekuria with all of Dhaka city. It's used to move a dead body from one place to another place and to keep a dead body. It is used as the best way of other ways to keep well a dead body. If used freezing ambulance so that there is no smell from the dead body easily and the body is free from virus or virus free.
We always provide the latest model freezer ambulance. Our freezing ambulance allows individuals to preserve a deceased body according to their preferences. We offer freezer ambulance services to any district from Dhaka for the transportation of deceased bodies. We consistently maintain the lowest rates for such services.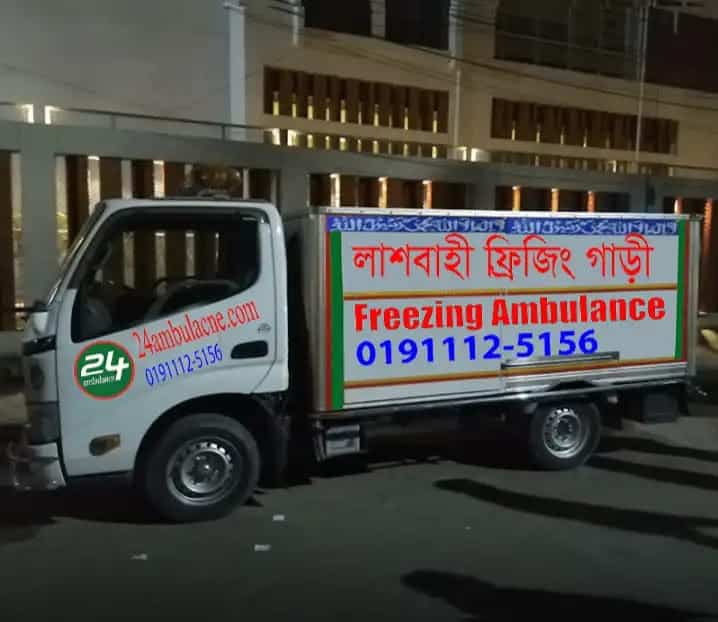 Best Freezing Ambulance in Keraniganj
Keraniganj freezing Ambulances
Our 24-hour ambulance service operates in Dhaka and remains available during strikes, political disruptions, and other disasters. The ambulance can accommodate 1 to 2 individuals with the deceased, along with a helper and driver. The rental fee is fixed based on the distance traveled. If the vehicle is kept waiting at any location, a waiting charge of 600 Tk per hour applies. If you anticipate needing extended services, please inform us prior to renting the vehicle. Our high-quality freezing ambulance service ensures reliable and efficient assistance.
Details of freezing ambulance
1. A freezer ambulance is utilized to transport a deceased body from one location to another.
2. The freezer ambulance's temperature is (-7) degrees so there is no bad odor from the body, and the body is free from the virus.
3. The rental cost for a freezing ambulance is higher than that of a regular ambulance. For the Dhaka city area, the charge is between 2500 to 3000 Tk. The rental fee for the freezer ambulance varies based on the destination, and there is a waiting charge of 600 Tk per hour, applicable at any location in Bangladesh.
4. High-quality steel stretchers keep the dead body.
5. There are lighting facilities inside to see the body.
6. There is a good side glass to see the dead body from outside.
7. We clean the car by date or seven after completing the duty.
Conclusion
Freezing Ambulance Service Keraniganj stands as a beacon of hope in the emergency healthcare landscape of Keraniganj. From cutting-edge technology to community engagement, every aspect of this service is meticulously crafted to provide top-notch assistance when it matters the most. In the freezing moments of emergencies, this ambulance service remains steadfast, ensuring that quality medical help is readily available to the residents of Keraniganj and its surrounding areas.