Ambulance Service 
Gulshan,

Dhaka – 24/7 Available

Ambulance Service Gulshan, Dhaka. We offer AC Ambulance, non-AC ambulance, Freezing Ambulance, and ICU Ambulance services in Bangladesh. Our 24-hour ambulance service is available in all districts across the country.

Ambulance Service in Gulshan
Gulshan ambulance service
The 24 ambulance company provide emergency Ambulance in the All Dhaka Area. When it comes to emergency medical services in Gulshan, 24 Ambulance is your go-to choice. Our skilled paramedics and experienced drivers work tirelessly to ensure that you receive the highest level of care during critical times. Whether it's a sudden illness, injury, or any medical emergency, our swift response and well-equipped ambulances guarantee your comfort and safety en route to the nearest healthcare center. With 24 Ambulance, you can have peace of mind knowing that professional help is just a phone call away. An emergency Gulshan Ambulance Number is Available.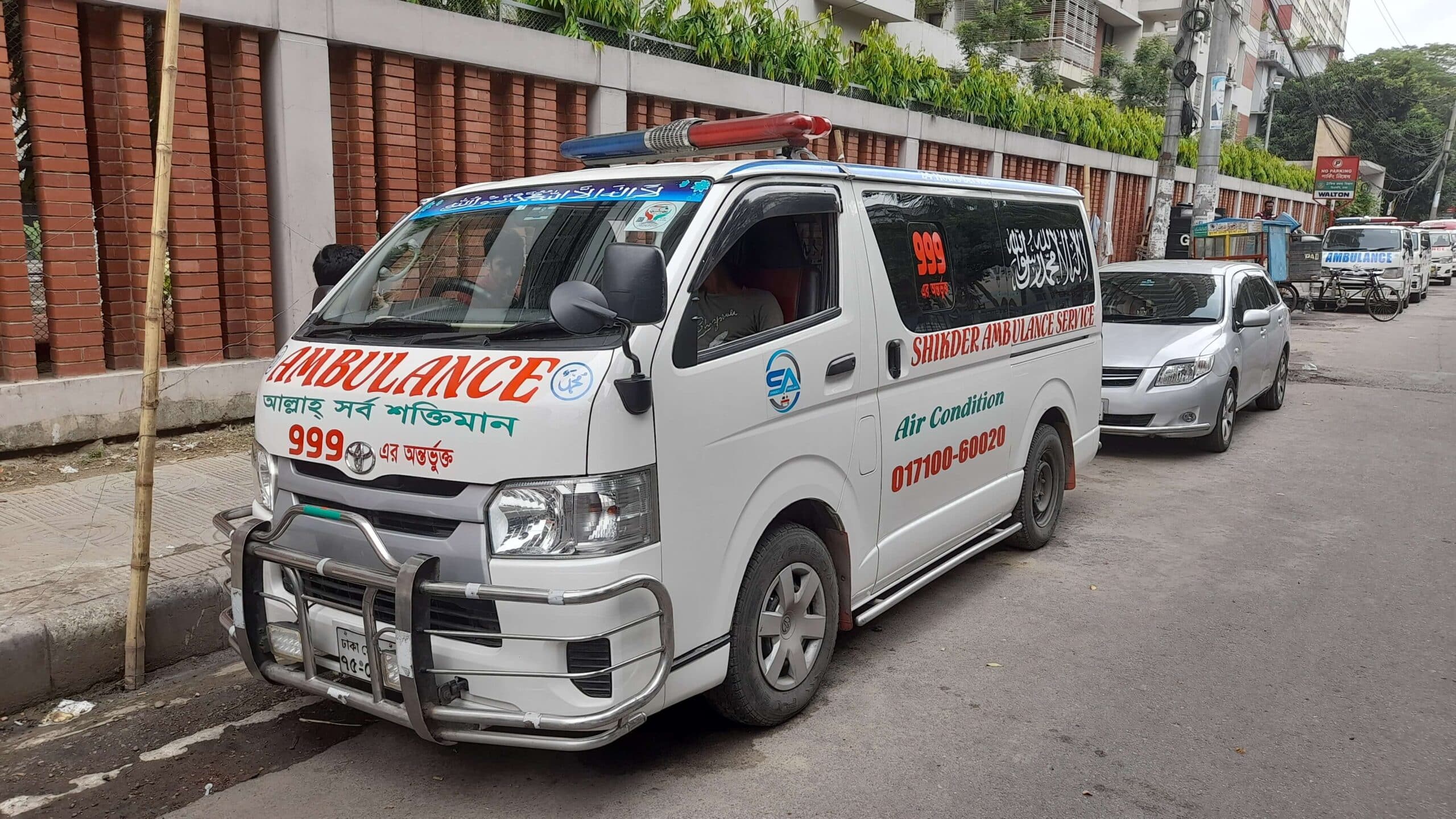 Overview of Ambulance Services
1. Advanced Life Support Ambulances
These ambulances function as mobile intensive care units, equipped with state-of-the-art medical technologies to provide critical care during transit.
2. Quick Response Units
For situations requiring immediate attention, quick response units are strategically stationed to provide swift medical aid. Manned by skilled professionals, these units handle various medical emergencies with precision.
3. Specialized Obstetric Ambulances
Recognizing the unique needs of expectant mothers, Ambulance Support in Gulshan operates specialized obstetric ambulances. These vehicles are designed to ensure the safe and comfortable transport of pregnant women requiring medical attention.
The Expert Team Behind Ambulance Service in Dhaka
The success of the service is attributed to a dedicated team of healthcare professionals. From paramedics to emergency medical technicians, each team member undergoes rigorous training to handle a spectrum of medical situations with precision and care.
Community Integration Initiatives
1. First Aid Training Sessions
Regular first-aid training sessions empower community members with essential life-saving skills, enhancing community resilience and ensuring immediate assistance before professional help arrives. Ambulance Service Gulshan, Dhaka – 24/7 Available.
2. Public Awareness Campaigns
Raising awareness about the services provided by Ambulance Services is integral to its mission. The service conducts awareness campaigns through various channels, reaching a broader audience and educating them about the critical role of emergency medical services.
Testimonials: Narratives of Gratitude
The success of Ambulance Service Number of Gulshan resonates in the gratitude expressed by the people it serves. Real stories highlight the professionalism, speed, and effectiveness of the service in critical situations.
Conclusion
Ambulance Seba Gulshan is more than a service; it is a lifeline for the residents of Gulshan. From cutting-edge technology to community engagement, every facet of this service is meticulously crafted to provide top-notch assistance. In Gulshan, this ambulance stands tall, ensuring that quality medical help is readily available when it matters the most.