Freezing Ambulance Service in Dhaka, 01911125156
Freezing Ambulance service in Dhaka, Bangladesh. It is a dead body carrier ambulance. It has a frozen box. Preserve the deceased body for extended periods, spanning hours to days. freezing an Ambulance is the best way. Enjoy Discount!

Freezing Ambulance Service in Bangladesh
Freezing Ambulance service
An emergency freezing Ambulance service in Dhaka, Bangladesh. It is a dead body carrier ambulance. Equipped with a freezing box, our freezer ambulance can preserve the deceased body for extended durations, spanning both hours and days.
The freezing Ambulance is better than other ambulances. The freezer ambulance is meticulously crafted with a focus on extended operational hours, making it the ideal choice for journeys that require extra time and care. The ambulance is designed with an inbuilt freezer, which keeps the body utterly cooled and frozen. A freezer ambulance is specifically designed for the dignified transport of deceased individuals, often referred to as a "Dead Body Carrier Ambulance" or "Lash Bahi Ambulance" by the community.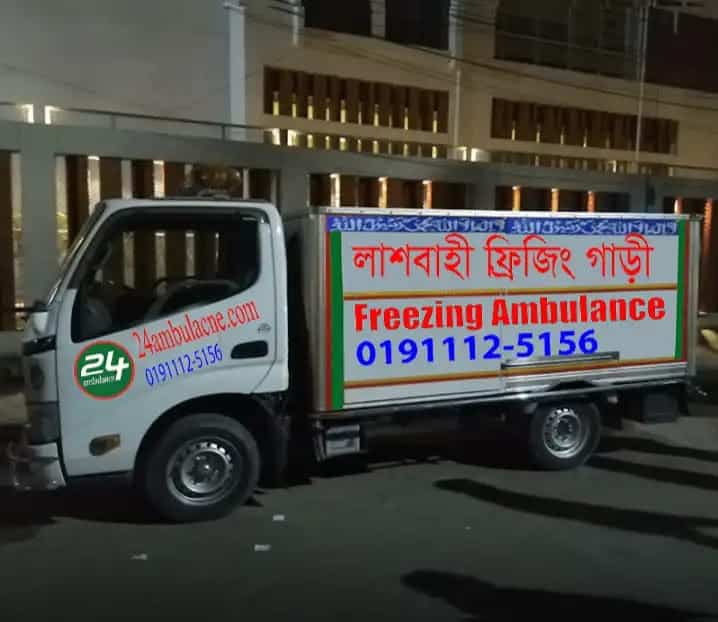 Dead body carrier freezer Ambulance service
Imagine a solution that allows you to ensure the preservation of your loved one's body for several hours and even days after their passing. In this article, we will delve into the innovative concept of the freezer ambulance, a unique approach to honoring the departed.
freezing Ambulance used to carry and save the dead body. A freezing Ambulance is a vehicle for transportation of the dead body or Lash. Freezing Ambulance service is the best to carry the dead body. 
The freezer ambulance service is equipped with a specially designed frozen box that maintains the deceased's body at a consistent temperature ranging from -7 to -20 degrees Celsius.
One of the key advantages of this service is that it effectively eliminates any unpleasant odors that may emanate from the body during transportation or storage.
Freezing Ambulance Service in Dhaka
Innovative Freezer Ambulance Services in Dhaka. When it comes to transporting a deceased individual from one location to another while ensuring the preservation of their body's integrity, there's no better solution than our cutting-edge Freezer Ambulance Service in Dhaka. This unique approach to body transportation not only prevents any unpleasant odors but also safeguards against viruses, ensuring a hygienic and dignified process
If you are in need of the freezer ambulance, don't hesitate to reach out to us. We are here to provide compassionate and reliable assistance during your time of need.
Your Choice, Your Way
With our Freezer Ambulance Van, individuals have the freedom to freeze the deceased according to their preferences. We understand the importance of preserving dignity in the process, and our service allows for personalized arrangements.
Affordable Excellence
In addition to our top-notch service, we take pride in offering competitive rates for moving deceased individuals. At all times, we aim to provide affordable solutions without compromising on the quality of service.
Details of freezing ambulance
1. Effortless Body Transportation with Freezer Ambulances
Freezer ambulances play a crucial role in seamlessly transferring deceased individuals from one location to another.
2. Temperature Control for Hygiene and Safety
The freezer ambulance maintains a frigid temperature of -7 degrees Celsius, effectively eliminating any unpleasant odors from the body and ensuring that it remains virus-free.
3. Transparent Pricing
The rental cost for a freezing ambulance varies based on the location. Within Dhaka city, the charge ranges from 2500 to 3000 Tk. For destinations outside Dhaka, the rental fee is determined by the distance, with an additional charge of 600 Tk per hour waiting time, applicable anywhere in Bangladesh.
4. Superior Quality Steel Stretchers
Our freezer ambulances are equipped with high-quality steel stretchers designed to securely accommodate the deceased.
5. Interior Lighting for Visibility
To provide a clear view of the body, our freezer ambulances are equipped with interior lighting facilities.
6. Observing the Departed
A well-designed side glass allows for respectful viewing of the deceased from outside the ambulance.
7. Rigorous Hygiene Standards
We ensure the highest standards of hygiene and cleanliness by thoroughly cleaning the ambulance after each duty, or at least once a week.
Choose our freezer ambulance for a dignified, safe, and hygienic solution for body transportation. We are dedicated to upholding these standards to provide the best possible service during your time of need.