Freezer Ambulance Service from Dhaka – All Districts
Freezer Ambulance service in Dhaka. It is a dead body carrier ambulance. It has a freezing box in it. The freezer ambulance can maintain the deceased body's integrity for multiple hours and days.

Freezer Ambulance service in Dhaka

Freezer Van Ambulance Services in Dhaka
When it comes to ensuring the safe and respectful transport of the deceased in Dhaka, Bangladesh, our 24/7 freezer van ambulance service is the optimal choice. We understand the paramount importance of handling departed loved ones with care, and our freezer ambulance service is dedicated to providing a dignified and secure passage.
Quality Service with Slight Price Variation
While our freezer ambulance service may come at a slightly higher cost compared to a standard ambulance. we believe that the peace of mind and care we offer are invaluable. In Dhaka city, our service charges typically range from 2500 to 3500 taka. Additionally, our waiting time charge is 600 taka per hour.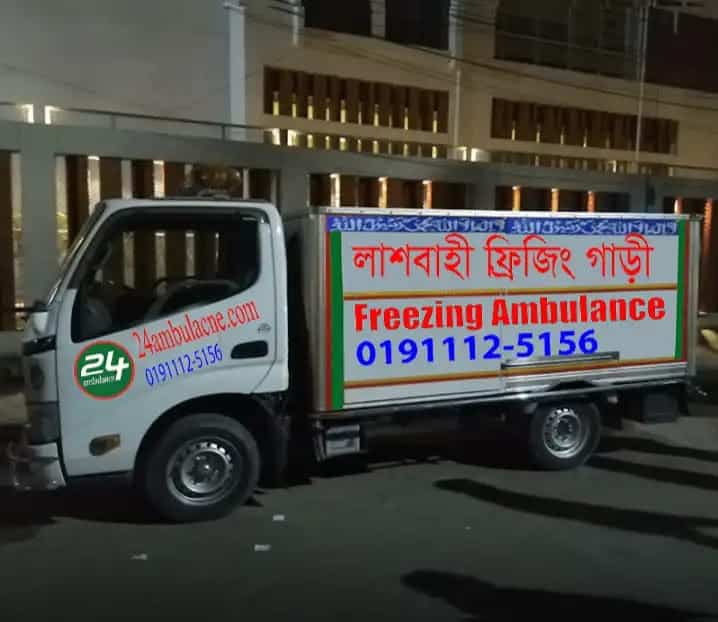 Freezer Ambulance Service in Bangladesh
When it comes to transporting the deceased with utmost care and preservation. our Freezer Ambulance Service in Bangladesh is a cut above the rest. Specifically designed for extended journeys, our freezer ambulance is equipped with an integrated freezer unit that maintains the body's temperature at a frigid level, ensuring optimal preservation. If you need a freezer ambulance, feel free to contact us without hesitation.
The Ultimate in Body Preservation
Our freezer ambulance, often referred to as a "Lash Bahi Ambulance" (Dead Body Carrier Ambulance), features a dedicated freezing compartment that effectively preserves the deceased for extended periods, spanning several hours and even days. This service is ideal for those who wish to maintain the integrity of their loved one's remains.
Maintaining the Ideal Temperature
Within the freezer ambulance, the deceased is kept at a controlled temperature, typically ranging from -7 to -20 degrees Celsius. This precise temperature control not only prevents any unpleasant odors but also allows for customization according to your specific requirements.
Leading Freezer Ambulance Service Provider in Dhaka, Bangladesh
We are the foremost Freezer Ambulance Service provider in Dhaka, Bangladesh. offering emergency ambulance services that cover the entirety of Bangladesh. Our commitment to safety and care is unwavering, especially in these challenging times of the COVID-19 pandemic.
Ensuring Safety During COVID-19
In response to the COVID-19 pandemic, our entire emergency department has implemented stringent precautions to prevent the spread of the virus. Our dedicated efforts are geared towards making visits to the emergency department and hospitals as safe as possible for everyone involved.
Comprehensive COVID-19 Measures
Our comprehensive COVID-19 measures include:
Universal Masking: It is mandatory for everyone to wear a face mask within our facilities.
Thorough Screening: We conduct rigorous screenings at all entrances to detect any signs or symptoms of COVID-19.
Separate Waiting Areas: We have designated waiting areas for individuals who have or may have COVID-19, ensuring they are kept separate from those without such signs or symptoms.
Frequent Sanitization: Our team diligently cleans and disinfects all areas of the Emergency Service, including waiting for areas, rooms, restrooms, and surfaces, in accordance with updated COVID-19 guidelines.
Your Trusted Emergency Ambulance Provider
When you find yourself in need of emergency ambulance services, you can trust us to provide the highest level of care, safety, and professionalism. Contact us promptly, and we'll be there to assist you in your time of need.
Utilizing Freezer Ambulances for Safe Body Transport
Freezer ambulances play a crucial role in the dignified transfer of deceased individuals from one location to another.
Operating at a temperature of -7 degrees Celsius, these ambulances effectively eliminate any unpleasant odors and ensure the body remains virus-free.
It's important to note that the rental cost for freezer ambulances may be slightly higher than that of regular ambulances. However, you can access freezer ambulance rentals at various locations across Bangladesh.
The use of high-quality steel stretchers guarantees the utmost care for the deceased during transport.
These ambulances are equipped with interior lighting facilities to provide clear visibility of the deceased.
Additionally, they feature well-designed side glass panels, allowing external viewing of the deceased.
As part of our commitment to hygiene and safety, our vehicles undergo thorough cleaning with disinfectants like Diastole and Savlon after each duty.
For the Latest Ambulance and Premium Freezer Ambulance Services, Contact Us
If you require the most up-to-date ambulance services and high-quality freezer ambulance options, do not hesitate to get in touch with us. Your needs and the safety of your loved ones are our top priorities. If you require a freezer ambulance, please don't hesitate to reach out to us