Emergency Ambulance Service Mohakhali, Dhaka
Emergency Ambulance Service Mohakhali, Dhaka. We offer a range of ambulance services including AC Ambulance, Non-AC Ambulance, Freezing Ambulance, and ICU Ambulance, covering all districts of Bangladesh. Our 24-hour ambulance service is at your disposal, and you can also benefit from a 10% discount
Emergency Ambulance in Mohakhali
Ambulance Services in Mohakhali
In the bustling urban landscape of Mohakhali, where every second counts in the face of an emergency, having access to the best emergency ambulance service can make all the difference between life and death. This article delves deep into the heart of Mohakhali's emergency medical services, uncovering the top-notch providers, their unparalleled commitment to saving lives, and the crucial role they play in this dynamic city. The best emergency ambulance service in Mohakhali stands out for its rapid response time.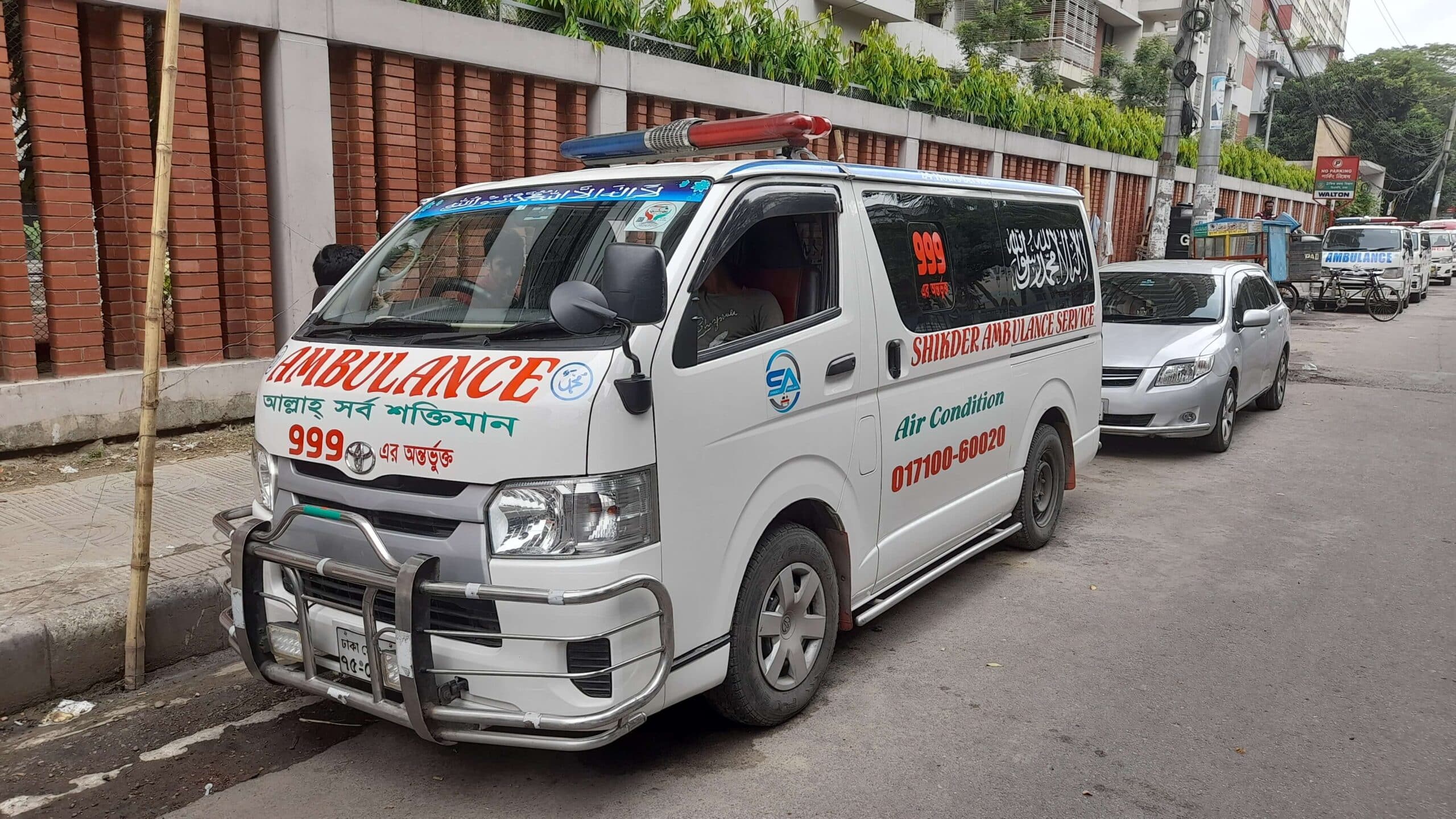 The Vital Role of Emergency Ambulance Service in Mohakhali
In the heart of Mohakhali, a bustling urban center where life's pace never seems to slow down, the Emergency Ambulance Service plays a pivotal role in ensuring the safety and well-being of the community. This article explores the significance of this vital service, its operations, and why it stands as a beacon of hope in times of crisis. 24/7 Hours Emergency Ambulance is Available in Mohakhali.
Skilled and Compassionate Paramedics
Behind the wheel of our ambulances are not just drivers but skilled paramedics who are dedicated to your well-being. They are trained to handle a wide range of medical emergencies with professionalism and compassion.
Mohakhali and Beyond: Our Service Area
While our focus is on Mohakhali, our service extends to nearby areas as well. We are here to serve you not only in Mohakhali but also in surrounding neighborhoods, ensuring that help is never too far away.
Your Lifeline in Mohakhali
In conclusion, our 24 Hours Ambulance Service in Mohakhali is more than just a service. it's a lifeline that you can rely on during critical moments. Your safety and well-being are our top priorities, and we are dedicated to ensuring that you receive the prompt and professional medical assistance you deserve. When emergencies strike in Mohakhali, know that we are here to be your rapid lifesaving partner, ready to respond 24/7.
Specialized Ambulances service in the Mohakhali Area
Recognizing the diversity of emergencies, the Emergency Ambulance Service Mohakhali deploys specialized ambulances tailored to specific scenarios. These include neonatal ambulances with incubators, cardiac ambulances equipped for specialized cardiac care, and trauma units, among others.
24/7 Availability
The reach of the best Ambulance Service extends not only throughout the city but also into its outskirts. They understand that emergencies can happen anywhere, and their commitment to serving the community knows no boundaries.
Emergencies respect neither the clock nor the calendar. This outstanding service operates round the clock, 365 days a year. Whether it's the darkest hours of the night or a holiday, they are always just a phone call away.