Ambulance Services
Dhanmondi, 

Dhaka

Ambulance Services Dhanmondi, Dhaka. We extend a spectrum of ambulance services tailored to meet your specific needs. Whether it's the comfort of an AC ambulance, the versatility of a non-AC ambulance, the chill of a Freezing Ambulance, or the critical care of an ICU Ambulance, we've got every district covered.

Dhanmondi Ambulances 24/7
Dhanmondi Ambulances Service
Ambulance service in Dhanmondi, Dhkaa. We provide an Emergency ambulance service in Dhanmondi. 24-hour ambulance service provider company. We provide AC ambulance service, Non-Ac ambulance service, Freezing Ambulance service, and Life support ICU Ambulance service in all of Dhaka city. 24-hour ambulance service is available in Dhaka.
We provide different types of ambulance services. If you ever find yourself in need of Ambulance services, simply dial our helpline. We're here to provide swift and reliable assistance whenever you call. Your safety and well-being are our top priorities, and our helpline ensures that help is just a phone call away. Don't hesitate to reach out when you need assistance with ambulance services.
24-hour ambulance service is available in Dhaka city. We are always ready to provide emergency ambulance service. If you need Ambulance service then contact us.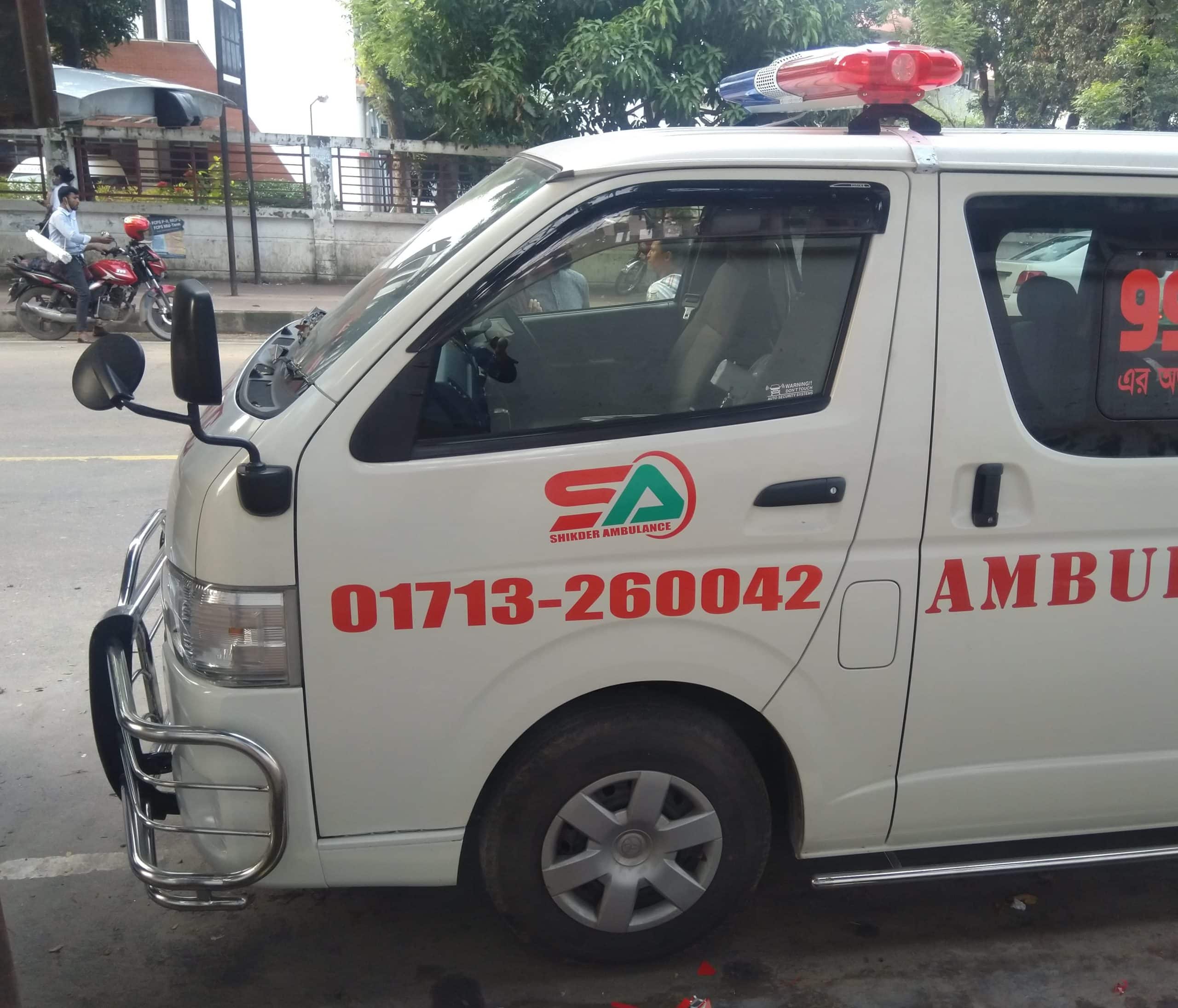 24 Hours Ambulance Services in Dhanmondi
AC Ambulance
Experience a soothing ride even in the sweltering heat. Our AC Ambulance ensures a cool and comfortable journey, prioritizing your well-being.
Non-AC Ambulance
For those who prefer a more natural environment, our non-AC ambulance provides a well-ventilated space, maintaining a serene atmosphere during transit.
Freezing Ambulance
When every second counts, our Freezing Ambulance rushes to your aid, maintaining a cold and controlled environment for swift and efficient transportation.
ICU Ambulance
In times of critical health emergencies, our ICU Ambulance stands ready with a highly skilled medical team and state-of-the-art equipment, ensuring the highest level of care during transit.
Emergency Ambulance Service in Dhanmondi
Use Ambulance to Transport to Save the life of the patient
Diverse Ambulance Solutions Tailored to Your Needs
In Sirajganj, Bangladesh, our 24/7 ambulance service is at your beck and call. We understand the urgency of your situation and offer a range of ambulance services to cater to your specific requirements. From the comfort of AC ambulance service to the simplicity of non-AC ambulance service, the swiftness of Freezing ambulance service to the essential support of Basic Life Support ambulance service — we've got you covered.
Contact Us When You Need Ambulance Services
If the need for ambulance service arises, don't hesitate to reach out to us. Whether it's a Freezing ambulance service in Dhanmondi, AC ambulance service in Dhanmondi, or a Non-AC ambulance service in Dhanmondi, we have dedicated services tailored for your locality.