Ambulance Service in Dhaka and all Districts 
Ambulance Service in Dhaka city. We Provide Ac Ambulance, Non-Ac Ambulance, Freezing Ambulance, And ICU Ambulance service is available in Bangladesh. 24 Hours Ambulance service is available in all districts of Bangladesh.

Ambulance service in Dhaka
Ambulance Service in Dhak city
Dhak city Ambulance service is Available at 24/7. We provide Emergency ambulance service 24 hours a day, 7 Days a week, and 365 days a year. 24ambulance.com company provide emergency ambulance in cheap rent of ambulance services. We provide always a Standard ambulance with the proper requirements. Contact us to Get an Emergency ambulance service anywhere in Bangladesh. Fast ambulance service provider company in Dhaka City. Best Quality Service Granted by Professional Skilled Driver and assistants. If you need any types of ambulance service then Contact us. Online ambulance service booking is available. 
24 Ambulance company is the largest & Trusted company in Bangladsh. We have many team to proivde emergency Ambulance service in all over Bangladesh. If you need emergency Ambulance service from anywhere in Anytime than contact us. We will Hi-Try to help you about service.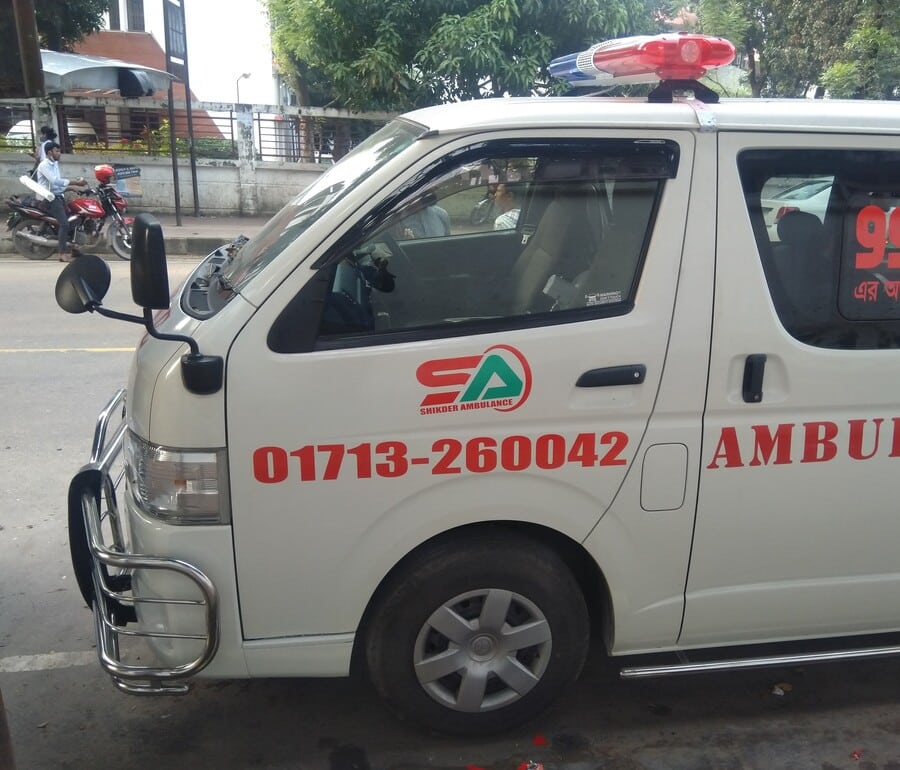 Shikder Ambulance Service
Mogbazar Rd, Dhaka – 1217 
01713260042
Popular Ambulance Service
Dhanmondi Rd, Dhaka-1205 
01911148584
Online Ambulance Service
Mirpur-10, Roundabout, Dhaka-1216  
01627669222
Emergency Ambulance Service in Dhaka
Emergency Ambulance service number in Dhaka, Bangladesh. We Provide Emergency ambulance service from Dhaka to many districts of Bangladesh. We provide different types of ambulance services. Such those: Ac ambulance service, Non-Ac ambulance service, Freezer ambulance service, and Life support ICU Ambulance service with Doctors. 24 Hours Emergency ambulance is available.
The Dhaka Ambulance service is available. When you feel ill then call the hour Helpline. We provide emergency ambulance services in different places like Mirpur, Kallayanpur, Mohammadpur, Savar, Hemayetpur, Rampur, Dhanmondi, Airport area, and Jatrabari. Keraniganj, Atibazar, Bosila area with all Dhaka city.
Best Ambulance Service in Dhak city
The best Ambulance service is Available in the all Dhaka city. If you need Ambulance than contact with us. Dhaka ambulance service, Emergency ambulance service, Best ambulance service in DhakaNew Eskaton ambulance service, Tejgaon Industrial Area ambulance service, Hatirpool Hatirjheel ambulance service, Nakhalpara ambulance service, Begunbari, Elenbari, Katabon, Rajabazar, Ambagan, Farmgate ambulance service, Nilkhet, Kakrail, Noyatola, Gabtola, Mirbag, Rampura, Ulan, Mohanagar Project, Banasree, Nandipara, Taltola, Khilgaon, Adarshabagh, Bank Colony, Sabujbagh, Basaboo, Natonpara, Shantibag, Baganbari, Rajarbagh, Tanti bazar Sutrapur Bangshal Saat Rawza, Babu Bazar, Islambagh, Puran Dhaka, Shahidnagar, Lalbagh, Kotwali, Sadarghat, Ahmedbag, Mugdapara, Kadamtola, Mugdha, Mugda Hospital, manda, Golapbag, Tikatuli, Kamlapur, Maniknagar, Manda, Swamibagh, Gopibag, Arambag, Motijheel, T&T Colony, Wari, Malitola, Nawabpur, Alubazar, Bongobazar, Nayabazar. Laxmi Bazar, Narida, Doyagonj, Karatitola, Jatrabari ambulance service.
Ambulance service of Dhaka
Faridabad, Postagola, Jurain, Shyampur, Dolairpar, Doniya, Shonir Akhra, Signboard, Chittagong Road, Muradpur, Mohmmabag, Rayerbag, Modinabag, Raishaheb Bazar, Matuail, Bhuighor, Saddam Market, Sontek, Demra, Matuail, Shanarpar, Sarulia, Bahir Tengra, Rasul Nagar, Konapara, Mridhabari, Bibir Bagicha, Dhalpur, Shekher Jaiga, Ganderia, Shuvadda,Dewanpara, Bauniabadh, Namapara, Mastertek, Manikdi, Balughat, Goaltek, Dali Market, Goran, Kalibari, Batennagar, Nanderbag, Paikpara, Lalkuthi, Harirampur, Barabazar para, Pala para, Jahurabad, Dia Bari, Shah Alibag, Kallyanpur, Shimultala, Amtola Bazar, Pirer bagh, Ahmed Nagar Mirpur, Mojpur, Borobag, Rupnagar, Kafrul, Kazipar, Damalkot, Dewanpara, Baridhara, Kalachandpur, Joar sahara, Kuril, Naranagar, Bepari Bari, Kuril, Keraniganj, Showarghat, Fakirapool, Hemaetpur, Savar, Ashulia, Zirabo, Bashundhara Reverview, Babu Bazar, Judge Count, Mirhajeerbag, Sayedabad, Tipu Sultan Road, Tikatuli, Ittefaq more, R K mission Road, Gulistan, New market,
Dhaka Ambulance Area
Science Laboratory, Mirpur road, Green Road, Panthapath, Tejturi Bazar, Old Dhaka, Tongi, Uttara, Rajabari, Atipara, Masterbari, Bhuiyan para, Mainer Tek, Uttarkhan, Dokkhin Khan, Sarkarpara. Madhyapara, Nowapara, Mollapara, Kazibari, Abdullahpur, Ajompur, Uttara Residential Model Town, Phulbaria, Nolbhog, Priyanka City, Ahalia, Hazipara, Naddapara, Ashkona, Mollartek, CAAB Colony Kawla Bazar, Uttara House Building, Kurmitola, Civil Aviation, Ashyian City, Barua Bazar, Dholipara, Kadoitola, Dholipara, Uttara Postal Quarter, Madhya Ajampur, Uttara Aarong, Uttara Sector -1, Diabari, Birulia, Mirpur, Mirpur DOHS, Pallabi, Mirpur Eastern Housing, Mirpur Share Egaro, Mirpur-12, Pallabi Muslim Bazar, Mirpur Ceramic Road Mirpur BUP, Kalshi, Mirpur Beribadh, Mirpur Cantonment, Ibrahimpur, Eastern Pallabi, Pollobi, Mohammadia Society, Badda, Uttar Badda, South Badda, Merul Badda, Bawail Para, Tekpara, Bawaila Para,
Dhaka Ambulance Service 24/7
Eastern Housing, Merul, Aftabnagar, Nasirabad, Trimohni, Meradia, Pilkhana, Kamrangirchor, Kalabagan, Lalmatia, Sukrabad, Jamuna Futre Park, Vatara, Nairer Tek, Bashundhara Abasik Alaka, Nurer Chala, Kathaldia, Nikunja, Jamtola, Khilkhet, Uttara Namapaara, Dumni,Gulshan-1, Gulshan-2, Niketon, Mohakhali, Karail, Banani, Rasulbag, Mohakhali DOHS, Kafrul, Agargon. Taltola, Shewrapara, Amin Bazar, Sher-e Bangla Nagar, Monipauripara, Shymoly, Nobody Housing, baitul Aman Housing, Adabor, Shia Masjid, Ramchandpapur, Basila ( Bosila), Washpur, Atibazar, Panchdona, Jafrabad, Shankar, Dhanmondi, Zigatola, Hazaribag, Burhanpur, Moneswar, Enayetpanj, Nawabganj, Dohar, Kathalbagan, Shahabag, Poribagh, Aziz Market, Shahbag, Ramna, Purana Palton, Naya Palton, Baily Road, Siddesari, Mailbag, Moghbazar, Kakrail, Noyatola, Gabtola, Airbag, Mirbag, Rampura, Ulan, Mahanagar Project, Banasree, Nandipara, Taltola, Khilgaon, Adarshabagh, Bank Colony, Sabujbagh, Baraboo, Natonpara, Shantibag, Baganbari, Rajarbagh, Emergency ambulance service. If you need emergency ambulance service from any where then contact us.
সেবাই আমাদের একমাত্র লক্ষ্য ও উদ্দেশ্য