Airport Ambulance Service in Dhaka
Airport Ambulance Service in Dhaka. We provide different types of Ambulances. Anytime in Anywhere Bangladesh. Online Booking Available.

Airport Ambulance service in Bangladesh
Airport Ambulance Service
ambulance services in Dhaka with 24 Ambulance Company. As the largest and most trusted ambulance company in Bangladesh, we extend our reliable services across all districts. Our commitment to your well-being is unwavering, making us the go-to choice for diverse ambulance needs.
When it comes to your well-being at Dhaka's airport, our specialized Airport Ambulance Services are here to ensure your safety. We take pride in offering prompt and dedicated medical assistance, providing a reliable solution for any unforeseen emergencies. Count on us for swift response times and professional care, making your travel experience secure and worry-free. Your safety is our priority as we stand ready to serve you at Dhaka's airport.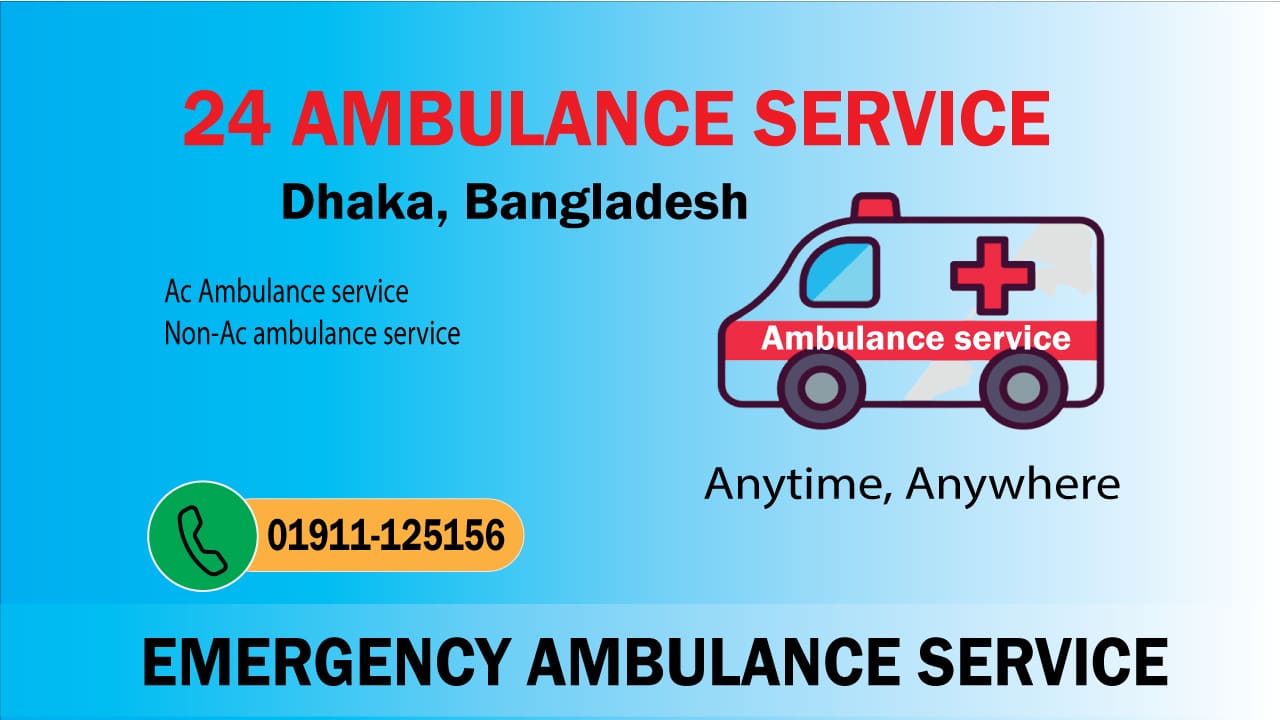 24 Hours Ambulance Near Dhaka Airport Area
We are your go-to Emergency Ambulance Service provider, extending our reach to all districts of Bangladesh. Renowned as the largest and most trusted ambulance company in the country, we offer a diverse array of ambulance services to cater to various needs.
Contact Us in Times of Need
When the need for ambulance service arises, our helpline is just a call away. Trust us to provide swift and reliable assistance whenever you require it. Your peace of mind is our priority, and we're here to ensure you receive the care you need promptly.
Airport Emergency Ambulance in Dhaka
For travelers and locals alike, our airport emergency Ambulance service in Dhaka is readily available. Count on us for efficient and professional emergency medical services, making your safety our top concern. When it comes to emergencies, 24 Ambulance Company is your trusted partner in Dhaka, Bangladesh.
Freezing Ambulance in Dhaka Airport
Dhaka Airport freezing Ambulance Service is available. We provide the latest model freezing ambulance to carry the dead body from Dhaka to other districts. freezing ambulance service is in Dhaka, Bangladesh. It is a dead body carrier ambulance. It has a freezing box in it. The freezing ambulance has the capability to preserve a deceased body for extended hours and even days.
Dhaka Shahajalal International Airport Freezing Ambulance service
The freezing ambulance service is available in Dhaka. In Dhaka, Bangladesh, we offer a freezing ambulance service equipped with a freezing box. This specialized ambulance is designed to preserve a deceased body for extended hours and even days. Opting for the freezing ambulance is considered the optimal method for transportation and preservation compared to other alternatives. Specifically crafted for longer journeys, this ambulance features an integrated freezer, ensuring the body remains thoroughly cooled and frozen throughout the transportation process.
In a freezer ambulance, the deceased body is typically maintained at a specific temperature, usually around -07 degrees. This ensures the prevention of any unpleasant odors emanating from the body. Additionally, you have the flexibility to customize the ambulance's temperature according to your requirements. Commonly referred to as a "dead body carrier ambulance," the freezing ambulance is a preferred choice among people.
Comprehensive Ambulance Solutions
Our commitment to your well-being is reflected in the variety of ambulance services we provide. From emergency response to specialized care, we've got you covered. If you need to transport the deceased body of a loved one anywhere, opting for a freezer van or freezer ambulance is a prudent decision. This choice ensures a controlled and odor-free environment, providing a dignified and respectful means of transportation for your near or dear one.